Among P series, PH products are the best products of Polarion that are made with focus on performance, convenience and functionality. Highly efficient 40watt ballast application, highly sensitive reflex mirror and built in handle designed for smooth transportation are the biggest features of these products. Also these are the designed to be safe even for works in water by an ultra precise design.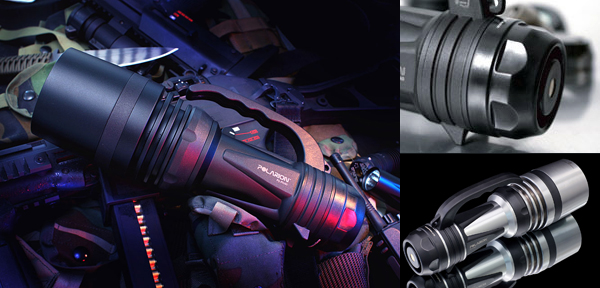 Specifications
Lamp Type
Lamp Power
Max. Luminous Flux
Lamp Life
Color Temperature
Illumination Distance
Input Voltage
Operation Current
Weight (without battery)
Dimension (mm)
Xenon HID Lamp
40W
4000 lm
Up to 2500 Hrs
4300 K
Up to 1.0~1.2km
D.C 10~18V
4.0 A
1.34Kg
90(W)*305(L)*118(H)

Battery
Battery Type
Battery Capacity
Run Time
Weight
Li-ion
DC 14.4V 4,400mAh
Up to 80mins
470g
Charger
Input Voltage
Charging Voltage
Charging Time
AC100~240V
DC 19V / 1.5A
3Hrs +/- 30mins
The Polarion PH40 - 40-watt HID portable searchlight with Integrated Handle
The PH40 Helios is a high-quality tool for professionals who need massive, clean, light output in a truly portable package. Pound for pound this is one of the most powerful and streamlined HID searchlights in its class.


| | |
| --- | --- |
| ¡Ü | The Polarion PH40 draws it namesake from the power and intensity of the sun. This 40-watt powerhouse features a High Intensity Discharge (HID) arc lamp emits an incredible level of blinding white light ~ 4,000+ lumens. |
| ¡Ü | Polarion has developed industry leading, streamlined ballast that gives this light its smaller overall footprint and lighter weight. |
| ¡Ü | HID lamps' lifespan is 2,500+ hours and the maximum range of light is 1.2Km |
| ¡Ü | Polarion PH40 eliminated the physical ON/OFF switch that has lots of break, so we replace it with Polarion technologies' water proof, magnetic switch. It is a semi-permanent rotary type switch which one distinct click in either direction will either turn the light ON or OFF. |
| ¡Ü | The cartridge style-battery is easily replaceable and only 3~4 hours of charge can work 80 minutes. |
| ¡Ü | Every time the Helios is initially switched ON, the LED's on the battery will stay illuminated for 5 sec's to let you know how much power is left in the battery. 5 Green LED's means 100%, 4 means 80% left in the searchlight. |
| ¡Ü | The rechargeable Li-ion battery does not need to worry about memory or over-charging your battery as the charging system is intelligent and will regulate the charging cycle perfectly |
| ¡Ü | By its unique design and technique, it is waterproof up to 50M |



¡Ü
¡Ü
¡Ü
¡Ü
¡Ü
Searchlight
Battery
Charger
Carrying Strap
Waterproof carrying case